© LBP

© Rahim Karimi

© Mehdi Zahedi

© Peter Lear

© Rahim Karimi

© LBP

© Peter Lear

© Rahim Karimi

© Rahim Karimi

© Rahim Karimi

Dance Forum

Dance as an art form has been recognized and practiced in the Middle Eastern civilizations long before it was promoted as a noble art in the West. Treated as a ritual act of religious and spiritual ceremonies, it has been an inseparable part of the ancient society's everyday life in major Eastern Empires.

Yet the knowledge about the history, roots and developments of the art of Middle Eastern dance is very limited. Few serious attempts have been made to survey this artistic expression in the area. The lack of an in-depth research on the history and theory of dance in countries around the Caspian Sea, particularly ancient Persian dance, has been always an obstacle to learn more about the subject or to promote more in-depth research on the subject.

This scarcity of knowledge ranged over not only the dance history in ancient civilizations of Middle East but also any knowledge of or recognition of the contemporary professional dance in countries such as Iran, Azerbaijan, Turkey, Egypt, Uzbekistan, Tajikistan, etc.

Artistic Director Nima Kiann established in 2004 an online research centre available for study on dance in general and particularly the art of ballet in the Middle East as a respond to a growing quest of information on this subject.
Click here to entre the separate web page.
link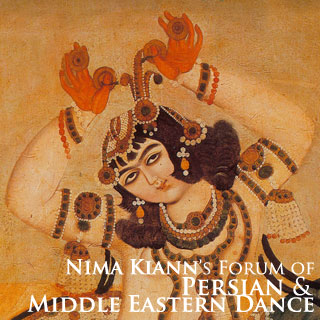 Click on the image to visit Nima Kiann's Forum of Persian and Middle Eastern Dance website.