© LBP

© Rahim Karimi

© Rahim Karimi

© Ramin Rey

© Mehdi Zahedi

© LBP

© Mehdi Zahedi
© Babak Rajabi

© Mehdi Zahedi

© Mehdi Zahedi

Media Kit

For inquiries and interviews please send an e-mail to: info[at]balletspersans[dot]org


latest press release


27/03/2012
Click here to read.


company news letter




photographs




To download images, right-click on the link and select "save target as". Please make sure to indicate balletspersans.org and the photographer.


more about nima kiann, founder, artistic director
& principal choreographe




The Founder and Artistic Director of Les Ballets Persans, Nima Kiann, was born in 1970 in Tehran, Iran, where at the age of 13 he began his studies in painting, Persian calligraphy and graphics at the School of Visual Arts. His work has been presented at art exhibitions in Iran, Turkey and Sweden. Shortly after arriving in Sweden, his burning desire for dance compelled him to begin his education in classical and contemporary dance at the Ballet Academy of Gothenburg. He later continued his education in Cannes, France, at Centre de Danse International de Rosella Hightower. He has since pursued his education in dance by participating in various ballet master classes throughout Europe.
Nima Kiann has a wide range of cultural and artistic experience in various fields, which include: teaching painting, calligraphy and classical ballet, directorship of several cultural associations, and engagement as founder and feature editor of Parnian Radio in Sweden. His educational background in history, theology and dance theory, as well as his fluent command of six languages, has provided a rich resource for many published articles and research material. Kiann is the promoter of an on-line research center and Forum for Persian and Middle Eastern Dance. His articles are used for study and research by several universities in the United States, Europe and Middle Eastern countries.
Nima Kiann's concept and vision of establishing an international Persian ballet ensemble, inspired by the cultural and artistic heritage of Iran, was introduced in 1998 and had an international impact. Since then, this vision has gradually evolved into one of the greatest and most extensive Iranian artistic projects ever realised outside of Iran. Les Ballets Persans, also known as The New Iranian National Ballet, has become a representative cultural institution for the Middle Eastern art form of ballet in Europe. Today, this accomplishment has brought together the talents and creative resources of distinguished artists from all around the world, with the common goal of working for the revival and enrichment of a great cultural and artistic asset. Nima Kiann's organizing abilities combined with a strong artistic vision have made him one of the most successful cultural administrators of Iranian community in Europe.


more about les ballets persans




One of Iran's most important cultural and artistic institutions, The Iranian National Ballet based in Tehran's Roudaki Hall Opera House, was founded in 1967 and through its twelve years of existence until 1979 introduced a varied repertoire of classical and contemporary ballet. Les Ballets Persans is the recreation of the former Iranian National Ballet and presented its World Premiere on October 7, 2002 in Stockholm, Sweden. In 1998, the ballet artist and choreographer Nima Kiann started to realise his long-lasting vision of recreating the former Iranian National Ballet with a new concept. Five years later in 2001, thanks to his efforts and energy, the new dance company was officially established and the production of company's premiere performance started in collaboration with international performing and visual artists.

In 2001, the Culture Minister of Sweden, Ms. Marita Ulvskog, expressed her appreciation for the establishment of the company: "... Please allow me to express my admiration for the energy and purposefulness with which you are equipped in order to pursue this project. To give life to an artistic tradition after more than twenty years of interruption demands a willpower of the kind that only a indomitable yearning can give. This yearning to recreate what there has been, can be difficult to understand for us, who are not sharing the painful experience that often is behind..."
The world premiere production of the company involved 106 participants from 22 countries and has been referred as the most extensive Iranian artistic project being realized outside Iran. Les Ballets Persans is today an international touring ballet company devoted to present dance productions inspired from the eastern cultures to the western ballet repertoire. As promoter of eastern ballets and for the first time in the West, the company revived and presented two ballets from the former Soviet republic of Azerbaijan: Babek and Seven Beauties. The company's thematic repertoire ranges from classical ballets such as Scheherazade and Seven Beauties to neoclassical works like Babek and contemporary productions such as Femme on the literary, historical, spiritual and social issues. The organization of Les Ballets Persans consists of a dance production company and an educational and research department. Nima Kiann's Forum of Persian and Middle Eastern Dance provides dance scholars and students with a collection of articles and research material on the issue.


more about the european youth dance project




EYDP is an artistic integration and peace project engaging young dancers from various countries and cultures. Les Ballets Persans introduces this project for the first time in 2007 and is planning to develop it to an international festival. EYDP aims to offer young dancers full participation and experience in dance productions and thus preparing them for their professional carrier. Within their engagements, dancers will have the opportunity of dancing in different styles interpretating roles from Les Ballets Persans ordinary repertoire but also dancing in new choreographies created exclusively for EYDP. Turquoise Land – Dream of Peace, a work based on classical ballet technique, is the first ballet being created for this project.
Les Ballets Persans has created an international network to increase the opportunities for young dancers to engage in the profession and to take part in a wide range of high quality dance. EYDP is dedicated to providing quality dance repertoire to young dance talents. The project's focus incorporates creativity and stage performance to enhance strong technical development and an innate understanding of dance as a performing art. EYDP is creating new partnerships between those providing and supporting dance activities for young people through working across the arts, community, education, and youth.


national ballet of tajikistan




Ballet as an art form has a 70 years long history in Tajikistan. National Ballet of Tajikistan which has produced some prominent international ballet artists such as Prima Ballerina Malika Sabirova had its glourious days during 60ies and 70ies. The company's repertoire is mostly classical but it is developing quickly under the directorship of Cheif Choreographer Emil Akmatov.
The company is based in Dushanbe Opera House which is locally known as "Sadreddin Aini State Academic Opera and Ballet Theatre". Supported by the president of the republic, Emomali Rahmon, and the country's Ministry of Culture, the opera house was renovated during three years and reopened in 2009 to present a new repertoire of ballet and opera.


flyers / posters for print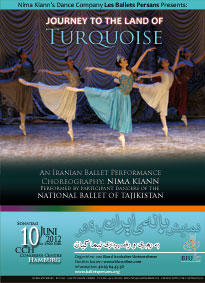 Click on the image to see the larger
poster for download and print.


program book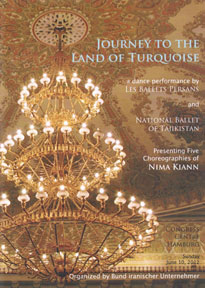 company portfolio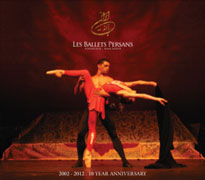 Please contact our office to get our company portfolio by email.
Info Package

Latest press release ●
Company news letter ●
Photographs ●
About Nima Kiann ●
About Les Ballets Persans ●
European Youth Dance Project ●
National Ballet Of Tajikistan ●
Flyers / Posters ●
Program book ●
Company Portfolio ●




اطلاعات در مورد سازمان باله ایران به زبان فارسی در دانشنامه ویک

facebook